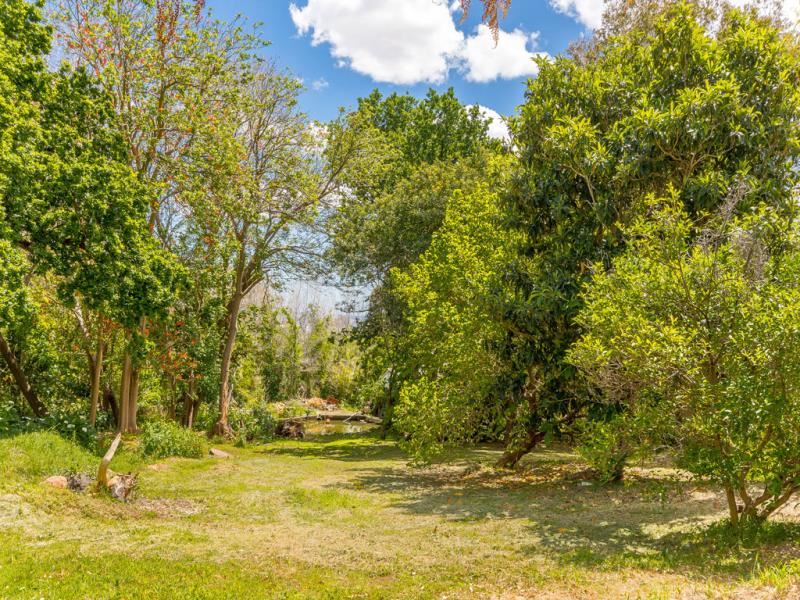 DREAM BLOCK - BOTANIC WONDERLAND
This is one of the most amazing blocks you will ever see. Deep loamy soils on a clay base with decades of totally organic garden practices have created a lush and most desirable home site. The gently sloping site provides usable land with multiple water sources. The spring-fed pond is glorious when the iris are flowering and a shared dam with proportionate pumping rights provides an excellent water supply.
There are views of the city and coastal plains that change with the seasons due to the deciduous trees. Currently a studio built from the timbers of the 1906 Subiaco Station Weighbridge Office sits on the block. This can be removed or retained if upgraded to the standards of a single house.
Mature trees and plants including Seville Orange, Black Mulberry, Bay, Pear Guava, Persimmon, Hickory, Roses, Crab Apple, Black Walnut, Myer Lemon, Macadamia, Paperbark and Oak make this a verdant parkland.
Located in a quiet cul-de-sac, there is easy access to the Perth CBD and the Kalamunda town centre with bus services on Gooseberry Hill Road providing access to both. There is also a bus service to Kalamunda Senior High School whilst Mary's Mount Primary School and Gooseberry Hill Primary School are both within walking distance. Local shops including Embers Restaurant are very close and many more shops including Coles, Woolworths and Aldi are in Kalamunda along with restaurants and cafes.
The title is not yet ready but coming soon. For more information please call Joe Stillisano on 0423 579 966.
Property Summary:
* 2,000sqm Block
* 847sqm Developable Area
* Gently Sloping
* City and Coastal Views that Change With the Seasons
* Spring-Fed Pond
* Shared Dam – 3,800 litres available every third day
* Drainage Easement
* Many Mature Trees and Plants
* Studio – Remove or Upgrade to Keep
Joe Stillisano – 0423 579 966 – Professionals Kalamunda Properties