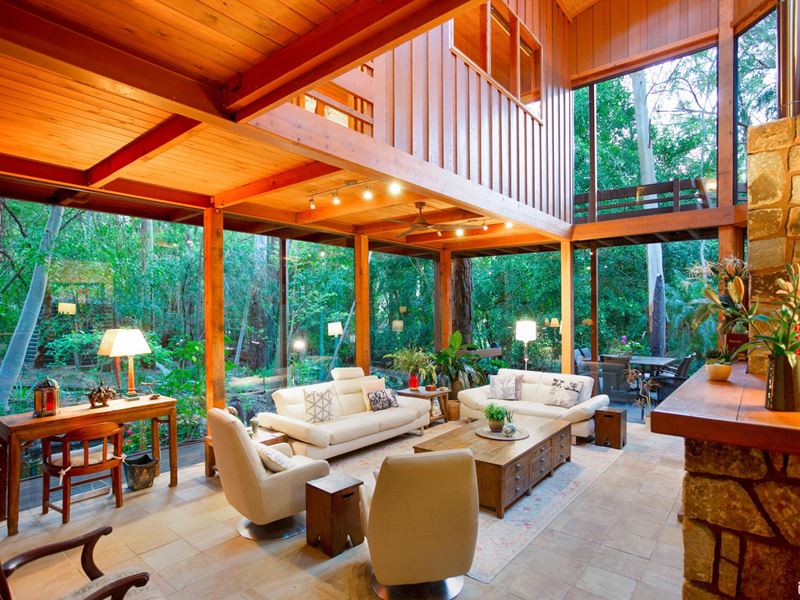 HIDDEN VALLEY
WATERFALLS
This home nestles in a private forest in the hills south of Perth. It's a unique gem with a large, shady deck just metres from Neerigen Brook. Dappled light floods in from all directions through massive plate glass windows on all levels, without compromising privacy.
Shops, restaurants, medical facilities and a hospital are all conveniently located within a few kilometres. Escape from the city without enduring that long, tedious drive to Margaret River. A train service connects the local area to Perth's Wellington Street station in 34 minutes. The house is the brain child of Alex Hillhouse, who built it for himself. It features three bedrooms, four bathrooms, a laundry, two lock-up garages and a comfortable home office. One of the bathrooms includes a large, egg shaped spa. Upstairs, the master bedroom has bathroom en-suite and a private deck overlooking the brook. Sharing access to the upper deck is an artist's studio, which looks down through an atrium onto the perfectly sized living room. Kitchen and dining room are open plan on a separate level.
Hiding under the trees, is an ancient railway carriage where Alex and Judy lived on weekends during the early days of the build. A large shed with lean-to structures lurks discreetly in a corner of this 2,200 square metre property
Check the pictures and if they cannot entice you to come and see this rare, unique, and wonderful property.
A picture is worth a thousand words and nothing truer than in this instance.
Home opens will ensure you have ample time to explore and drink in the ambience of this rare and unique opportunity.