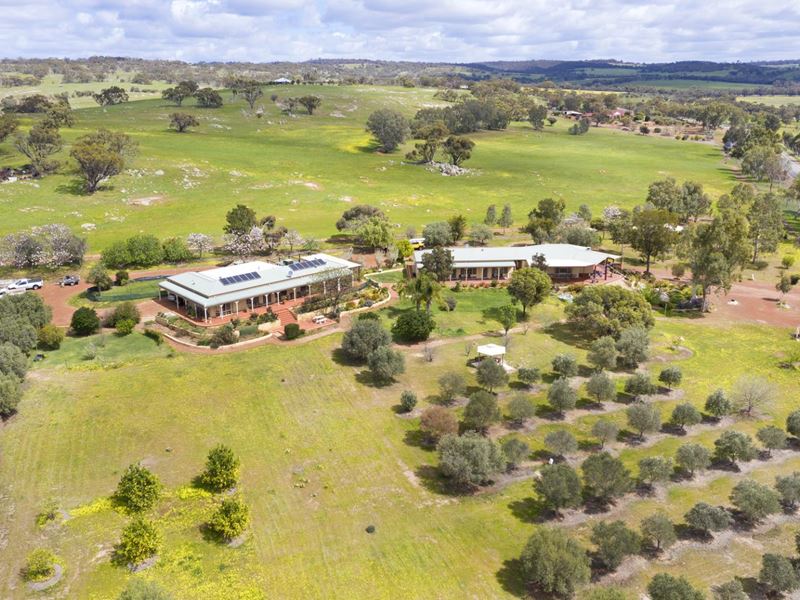 A GETAWAY FOR THE WHOLE FAMILY
A chance for the whole family to enjoy a true Getaway as well as having an opportunity to generate multiple income streams.
• Olive Farm – grove with over 200 established olive trees.
• Fully serviced studio apartments which can sleep up to 5 in each
• Function facilities perfect for all types of weddings, formal gatherings etc. with Gazebos' set amongst beautiful
lawns & gardens.
• Fully serviced cafe with full dining room just waiting to become the go to cafe for good dining, coffee &
Devonshire teas.
• Private well-appointed residence offering 4 bedrooms 3 bathrooms with quality features and fittings as well as
being surrounded by shaded walkways and a huge entertaining pergola.
All this set amongst lush green surrounds amid bush & farmland on 5 acres fully fenced with many additional varieties of fruit & citrus trees yet only 2 mins drive to central York which is essentially the colloquial charming township in a much loved tourist precinct.
This property is a wonderful mix of Rural, Residential & Commercial, A true Trifector – WIN WIN WIN