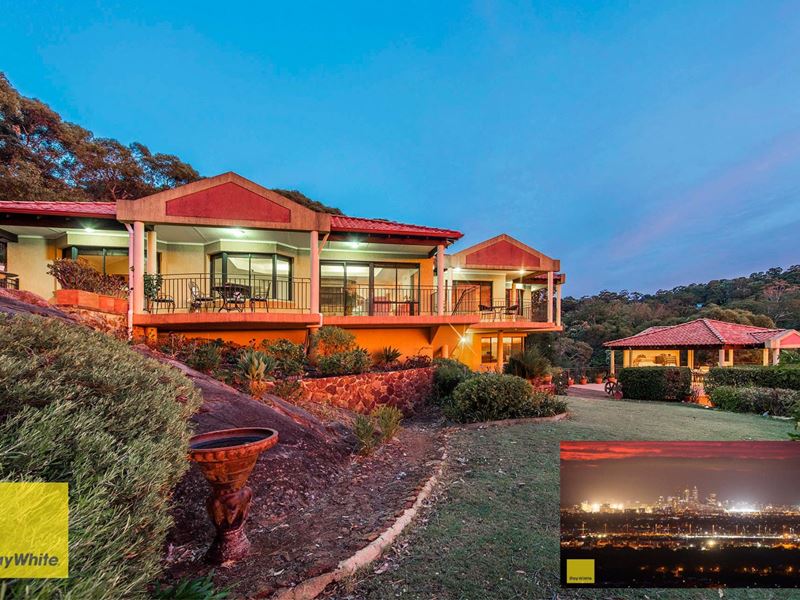 TIME TO MOVE - OFFERS WANTED - VERY KEEN SELLERS!
Being sold well below replacement cost and sitting high and proud on the escarpment is this modern masterpiece echoing the styles of Provence and Tuscany. A very tasteful home one for the discerning buyer who likes to have a "signature" home, a home for entertaining and a home to raise the family, a home for friends and most of all a home in which to sit back, relax and grab a glass of wine and enjoy the stunning city views and unfolding panorama that is available pretty much throughout this home.
Built strong and with a convertible floor plan to accommodate a family's changing lifestyle this 4 bedroom, 4 bathroom has much to offer to accommodate the family. Yes this home has 4 bedrooms – 2 of these are on the ground floor and share a bathroom and a living area which doubles as a kitchen / dinette aka a flat just ideal for either an independent older family member or split the house and let the young ones have this space.
Upstairs there are 2 other bedrooms (master is gorgeous with awesome views) 2 bathrooms and a generous study (easy doubles as bedroom number 5) which has an amazing backdrop, who wouldn't want to work from home here? Tired of being inside then retire outside to the balcony to stretch your legs! There is a 2nd smaller study and full on solid timber (Tas oak) kitchen with deluxe appliances and lots of living area with open plan living / dining / family areas all with huge views and outdoor balcony there is even a built in bar. In addition to all this there is also a separate custom lounge with recessed ceilings to retire too.
Outside you will find the fully landscaped gardens with an amazing outlook and a very large outdoor lifestyle space just ideal for parties, christenings and maybe even marriages – all with that amazing view!
There is a bonus here in the double garage another area that can be utilized as a bedroom with separate ensuite just perfect for a party leftover who can't make it home or the drop by's
A home for unique individuals wanting class and style in their home a wonderful opportunity to secure a truly individual hills home at a reduced cost – View by appointment