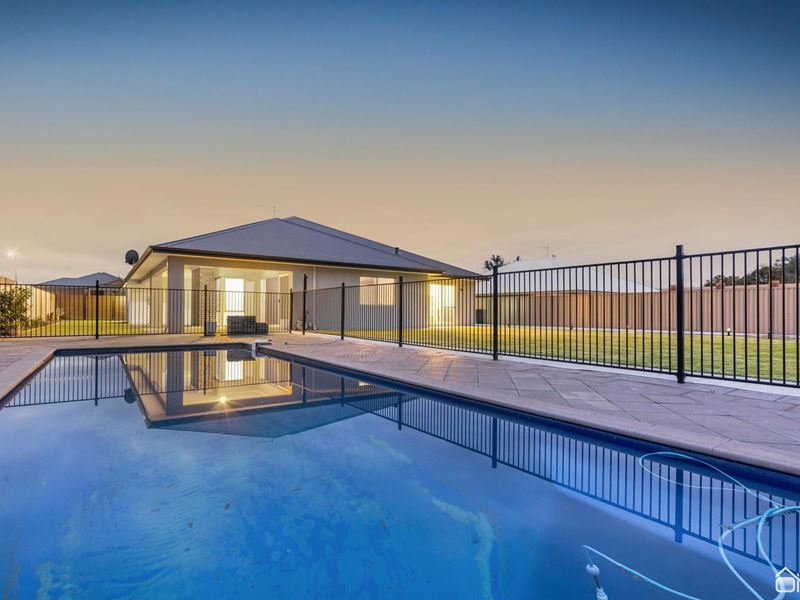 LIVING LARGE
This is, without doubt, one of the most unique and highly-optioned homes available in Byford!
Set on a massive 1391sqm block with a 2015 built 4 x 3 – the big bucks have been spent here, leaving just a few things for the new owner to complete and create their dream home.
THE HOUSE
Built by Collier Homes in 2015, this house is set up for entertaining…in a BIG way!
Located at the front of the home, the theatre room is amazing and includes a tiered floor to allow for the full cinema experience and a coffered ceiling to add a beautiful sense of space.
The main bedroom is huge and the walk in wardrobe is the stuff dreams are made of! Fully decked out with drawers, hanging space and shelves; you will be able to store enough clothes for a small army.
If you're going to be clothing a small army, you're probably going to want to feed them too and we've got you covered there! The kitchen is amazing, there is a massive walk in pantry along with a 900mm stove, two ovens, a built in microwave and a built in steam oven… nobody's going hungry!
There is a heap of cupboard and bench space in the kitchen but if you're partying in a REALLY big way, you will love the over-flow kitchen in the games room which opens up to the alfresco area making it perfect for summer BBQ's and pool parties.
Now, with all this entertaining you may get the occasional guest wanting to spend the night – they will be more than comfortable with each of the bedrooms enjoying direct access into a bathroom (bedrooms 3 and 4 share, bedroom 2 has its own). This is a seriously rare setup and just about every teenagers dream!
OUTSIDE
The alfresco area extends from the main living area around to the back of the home and overlooking the swimming pool. There is an abundance of space for kids and pets to run and there is a combination of simple garden beds, reticulated lawn and some artificial turf.
Serious money has been spent in concreting the backyard to allow for access from the front right to the back and there is power provision and space for a HUGE shed.
Photos don't do justice for just how well setup this yard is!
THE LOCATION
This is a very accessible part of Byford with easy access to Abernathy Road where all the shops, restaurants and cafe's can be found. Tonkin Hwy is just around the corner making access to everything very convenient and the West Byford Primary School is just a walk away.
This will be very popular, if you're keen don't delay – there won't be another like it!