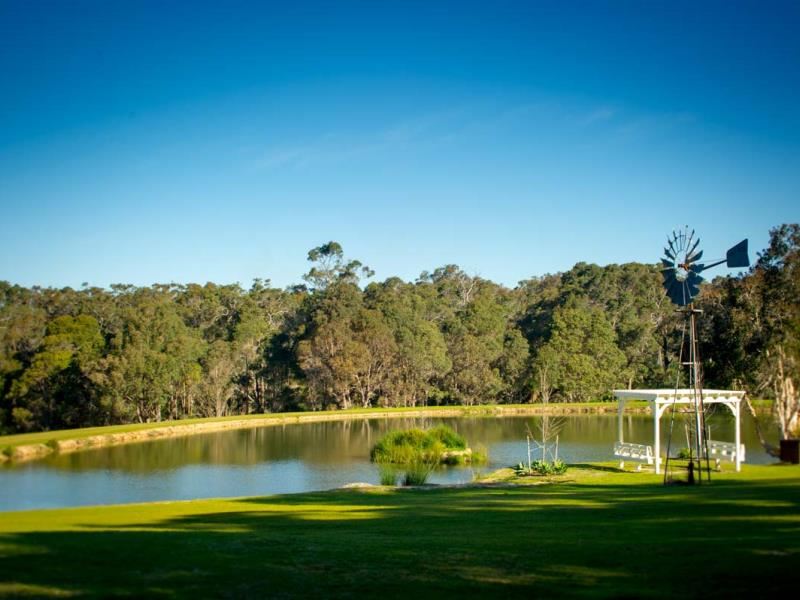 RARE OPPORTUNITY TO LIVE THE SOUTH WEST DREAM
This stunning 18 acres of pristine rural bushland with a huge spring fed feature dam is located an easy 3 minutes drive from Dunsborough's town centre and ever popular cafes and restaurants while also being only 5 to 10 minutes from several world class vineyards, beaches and surf breaks.
A very unique property situated in beautiful country with a long list of options available for further development (Shire Development approval granted) – business and lifestyle including a restaurant, managers house plus 6 additional chalets
The property boasts four character cottages which are currently generating a very good return for the current owners and are located to take in the views through the trees across the picturesque spring dam. On top of everything else that this magnificent property has on offer, there is scheme water available, uncommon to South West rural properties, and the convenience of 3 phase power to the site.
A large shed at the entry to the property would make an ideal office/reception area to meet & greet guests & a reticulated lawn area of 2000sqm with a gazebo has been created for families to play, picnic or play ball games .
Some of the possible options available to the astute buyer are:
– Live in one of the current houses while you build your dream manager's residence while letting out the other 3 houses.
– Put the management under contract and earn a good return or manage them yourself to make more money
– Perfect abode for the use of 1 – 4 families for yearly holidays and the option to let out the existing cottages when you are not using them.
– Complete the development by building the additional 6 cottages, plus managers' residence and the café literally creating your own resort.
– Plant some vines and have your own hobby vineyard or load it with your favourite fruit trees due to the abundance of water on site.
PROPERTY FEATURES
Cottage configuration:
'Goanna' 2 storey with 3 bedrooms, 2 bathrooms.
'Possum' Single storey with 2 bedrooms,1 bathroom.
'Grasstree' Single storey with 2 bedrooms, 1 bathroom.
'Kookaburra' 2 storey, 2 bedrooms, 1 bathroom.
Cottage details:
– Bedrooms have recently had new floors installed, bathrooms are all tiled and kitchen/lounge/dining areas are all commercial grade vinyl wood panels in each cottage.
– R/C Daiken system & insulation in each cottage.
-NBN Wifi throughout the cottages
– Pot belly stoves in each cottage for cosy winter fires.
– Bathrooms include shower and vanities.
– Ovens are electric and cook tops are gas in each cottage. Gas oven in Kookaburra.
– Dishwashers are included in the Goanna, Possum and Grasstree cottages.
– Laundry – Washer/Dryers in Goanna and Kookaburra.
When this sells there will not be another one like it so avoid disappointment & book a private viewing with the exclusive agent Steve Hopkins today on 0422 117 121