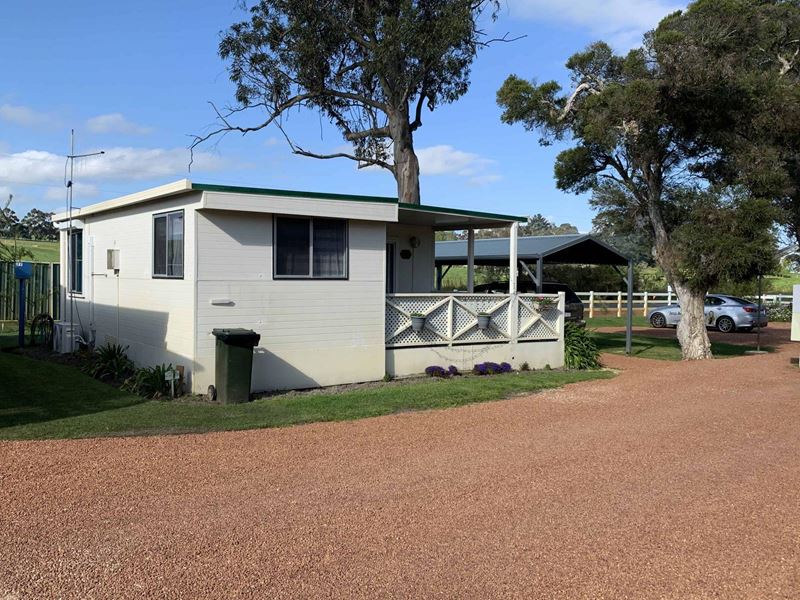 Happy Days - what a beautiful place to live!
It's a dream come true for most people to own their own property but unfortunately, not all can afford the average house prices in Albany.
Not only is this unit very cute and fitted out with new appliances plus a carport, but it's also situated in one of the smallest, neatest and most beautiful caravan parks you will find in our Albany area, aptly named Happy Days.
This caravan park only has a few (I'm guessing 6-8?) permanent units that rarely come to market, mostly because the people that live here love their little homes and enjoy living in this incredibly beautiful setting on the bank of the King River.
A large part of the park is for "permanent caravaners" – people who rent a spot to park their caravans throughout the year. Some units are specifically for holiday and short term letting while there are camping sites near the riverbank for visitors.
It's true, the unit isn't huge inside. It consists of 4 neat, good size rooms – lounge, bathroom, kitchen/dining and bedroom. There's a ramp at the entrance and the gorgeous deck – complete with new lattice, overlooks the play park at the front entrance.
The lounge has a reverse cycle air conditioner and space for a couch, a little table and 1 or two chairs. A sliding door leads out to the deck and yes, there is TV reception.
The bathroom is very tidy and consists of a shower, toilet and basin with ample space for a washing machine and tumble drier.
The kitchen sports a Chef oven and hob with an extractor, a small Bosch dishwasher and a convection microwave which will form part of the sale – all about a year old and in perfect working order.
There's a narrow, upright cupboard in the corner, a cupboard with wide shelves, top and below cupboard space and plenty of bench space to prepare food. New LED fluorescent lights were fitted recently. The second air conditioner above the dishwasher keeps everything cool when needed.
The owner of this unit recently painted the whole cottage inside. The blinds, screens and curtains are of good quality throughout. The bedroom (blue curtains) and the bathroom have battery-operated electronic blinds as an added bonus. Note that the current owner uses the "dining room" as her bedroom and added extra free-standing cupboards in the proposed "bedroom". The bedroom is roughly 3 x 2.5 m2 so not tiny.
A huge, upmarket steel-constructed carport was added about a year ago at great expense. It's long enough to shelter a big car as well as a small trailer.
There's a little park to entertain the kids and a lovely communal barbeque area set under gorgeous trees right opposite Unit 18. You can also have a picnic with friends at the riverbank or sit on one of the many well-placed benches on the manicured lawns and watch the incredible birdlife. If you're more adventurous, have a swim or paddle in the river – you don't need to own a canoe, just hire one from the office.
How do you buy a park home with a fixed term site-only agreement?
You own the home outright but the land is privately owned. You pay a small amount of rent, currently $160 per week for 1 person or $180 per week for 2 per unit. You're responsible for paying your own water, gas and power bills and have to abide by the general campsite rules.
To ensure continued harmony in the small camp, any new buyer/s will have to be approved by the campsite owner. Happy Days' residents are happy because like-minded, respectful people live in this little community. It's in everyone's best interest to keep it well-cared for, safe and friendly.
If you're single or it's only two of you and can afford it, you really should consider buying this park home rather than paying an enormous amount of rent to help pay off someone else's mortgage.
This unit is neat, has many extras and is extremely affordable, plus it's located in one of the most beautiful and well-cared for parks in Albany. The area is safe and the neighbours are all very friendly and house proud.
For more information or to book a private viewing, please call the exclusive agent Jess Adams at 0410 631 335 – as soon as you can. Unfortunately, we only have 1 unit for sale and it will be snapped up quickly!