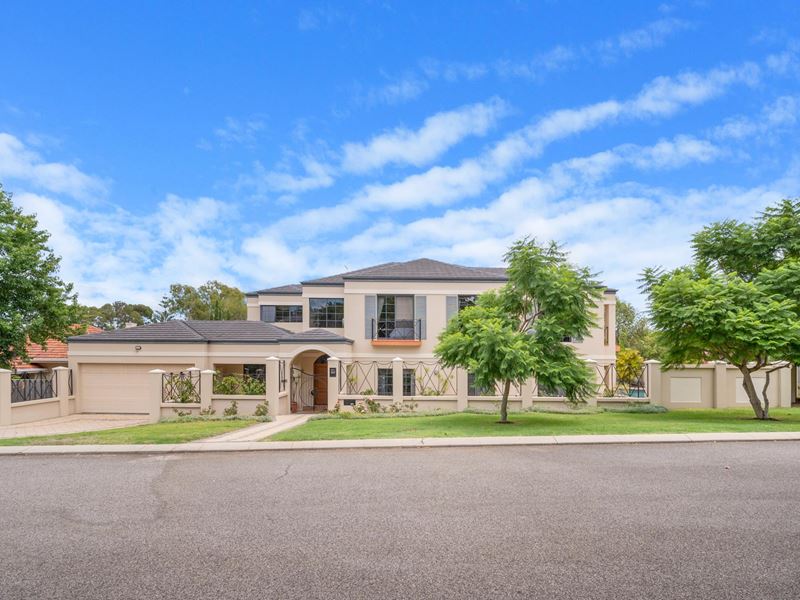 Palatial Luxury
A larger than life home big on luxury and space in an exceptional location, this upscale family residence is opulent living at its finest. Offering multiple living areas, light filled spaces and high ceilings, American Oak floors and generous rooms, this grand residence affords exceptional entertaining areas and privacy.
The impressive entrance to this two-story, east-facing home welcomes the visitor to a large tiled- foyer and elegant chandelier. A vast living and formal dining area lead to a dedicated pool room, complete with corner bar, overlooking a sparkling pool. Boasting an undercover alfresco area, the paved exterior wraps around the whole home, complete with rose garden and palm trees, affording a palatial pool-side entertainment area hard to beat.
The kitchen provides an abundance of space, benchtops, cupboards and pantry with its own casual, informal dining area overlooking a courtyard and trees. With options aplenty, the most difficult part of living in this residence is deciding where to entertain. Inside and out, this colossal home provides an abundance of space to indulge in and with sliding doors and large windows throughout, it enables a light filled, warm and inviting ambience.
With room for many, this property offers five bedrooms, all of decent size with built in robes. Two bedrooms on the ground floor and three upstairs, the luxurious master bedroom undoubtedly takes the prize. A lavish and spacious oasis that offer's homeowners a retreat from the rest of the home, this room has its very own living space, a separate powder room and a large bathroom complete with double sinks, marble flooring and a spa bath. Wake up to panoramic views of the leafy surroundings and enjoy privacy and decadence at its best.
Another living area at the top of the stairs provides a separate sanctuary with its very own sun-drenched balcony. The two other bedrooms upstairs are of generous size, one with its built-in desk and wall shelves and views to the leafy street below.
Features
andbull; High ceilings
andbull; Majestic Entrance foyer with chandelier
andbull; Security including lockable gate at the entrance
andbull; Air-conditioning
andbull; Ample storage throughout the home
andbull; A shoe and coat cabinet situated in the entrance foyer
andbull; Two floors that offer the family entertainment areas and exclusivity and privacy
andbull; 2 x car auto garage with secure parking along with separate storage room
andbull; An elegant staircase that leads to the upstairs living quarters
andbull; 3 x spacious living spaces
andbull; 1 x master bedroom is on the top floor with an attached bathroom, built-in wardrobes,
a separate powder room section, an additional private living space with balcony
offering scenic views
of the leafy street below
andbull; 4 x additional bedrooms that offer space and privacy
andbull; 1 x laundry placed separately from the main living zones of the house with an
abundance of cupboard space and benchtops
andbull; 3 x bathrooms evenly distributed between the two levels
andbull; 1 x kitchen including double stainless-steel sink, gas stove, cupboards and large
pantry.
andbull; A large outdoor living area that includes a fenced swimming pool area, alfresco and
exterior space
andbull; 1 x games room overlooking the pool
andbull; American oak flooring
andbull; The home is situated close to the prestigious Christ Church Grammar School and
Methodist Ladies' College
andbull; A mere stroll to the river and Nedland's Yacht Club and Nedland's Golf Club
An exceptional family home and entertainer's paradise, this property's key features are without a doubt its luxury and location. Indulge in its opulent space and feeling of grandeur within a prime location. Prestigious schools, Nedland's Golf Club and Yacht Club, the beautiful Swan river front and Claremont Quarter are only a few short minutes away.